<! -- height:300px !important; -->
qtypography is an arabic type-design foundry and design studio based in bahrain specifically focused on developing high quality arabic typefaces, established by qassim haider on 2014.
for more than 10 years qassim helped the market's foremost web design & developments. he also worked with brand leaders in many sectors developing logotypes, brand identities, custom typefaces & arabic calligraphy for different campaigns and creative projects.
qtypography established to focused on developing arabic typefaces & branding design through type-design, calligraphy, In addition to that qtypography specializes in web design & development.

---
services
+ bespoke type / custom type & font developments

bespoke of arabic typeface / custom arabic type-design
modern type design & arabic matchmaking
creation and development of arabic & bilingual corporate fonts
font format conversion

converting windows fonts to mac & reverse
converting TTF fonts to OTF & reverse
converting AXt fonts to OpenType
converting desktop fonts to web

consulting on type design, typography & fonts

+ arabic calligraphy

arabic calligraphy for logotypes & publications
arabic calligraphy for gypsum, wood & interior design
wedding & greeting cards design
jewellery design
consulting on calligraphy

+ graphic, branding & publications design

logo design & brand identity
brochures & publications design
naming

+ web design & development

hosting & domain names
front-end & back-end development
web app. design & development
compatible UI for smartphones & tablets
creation & managing social media channels
flash & graphic animations
online marketing - google ads

+ design, web development, typography, calligraphy sessions & workshops
---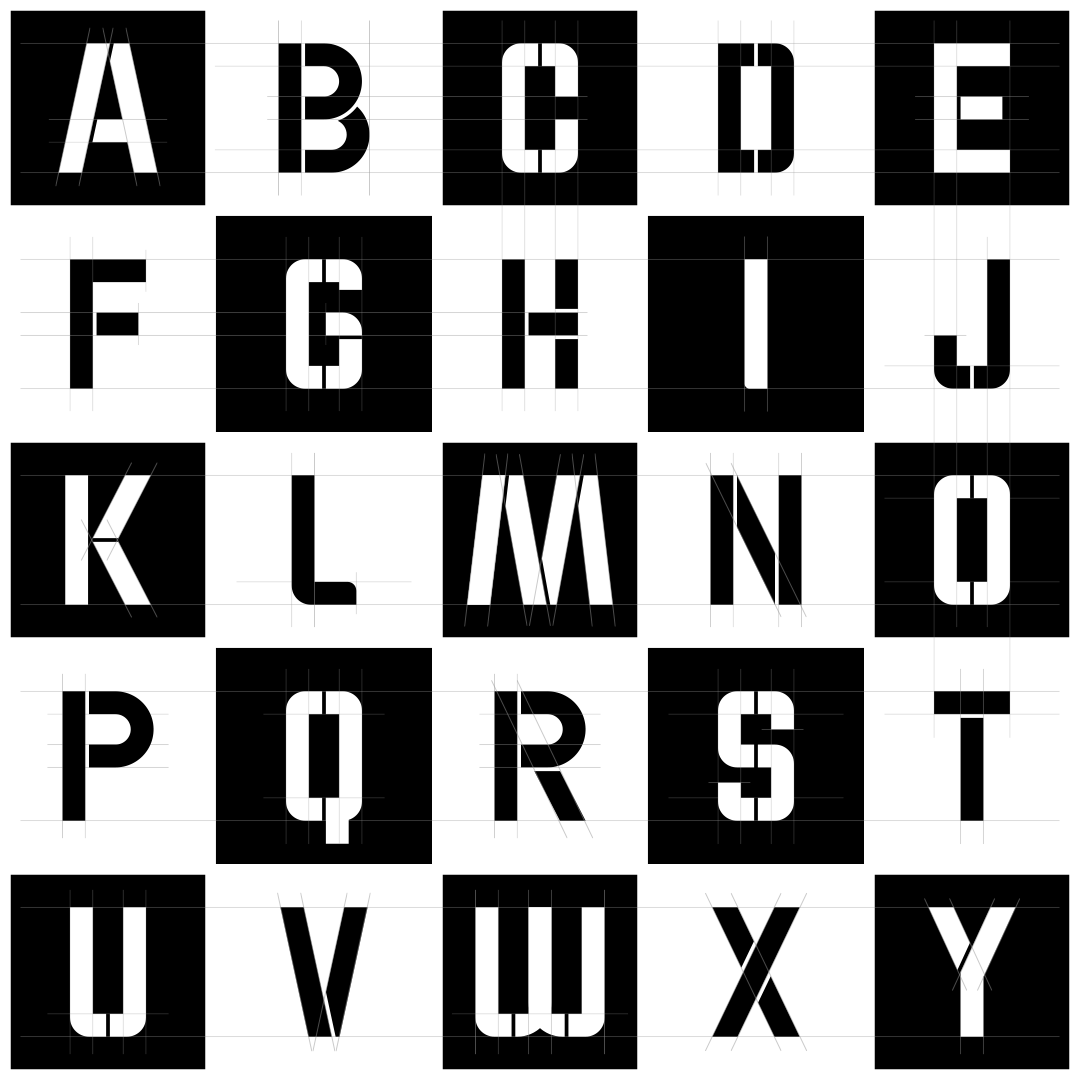 Updated: May 31, 2021
وك-ستانسل-كاب: هو خط قام بتصميمه قاسم حيدر، وهو خط لاتيني مقطع مصمم لرسامي الجرافيتي وللاستخدامات الفنية، وقريباً سيأتي بحروف عربية.
WOK-STENCIL is a new bilingual font designed for the first time in 2017 by Qasim Haider, as a Stencil typeface with slits cuts, for graffiti artists & for spray paint uses, the beta version recently released for free, while the Arabic one coming soon.
for type-design and cooperation? contact us: design[at]qtypography[dot]com
Download & Font Rating:
1 - Great job, I like the font.
- Sharifa Hujairi
2 - Well done Qassim
- Mustafa
Qassim Haider on BBC Arabic Television

17 Jan 2018
Qassim Haider was part of the special Program by BBC Arabic Television in "BBC Xtra". The Program focused on Arabic Calligraphy and Typography...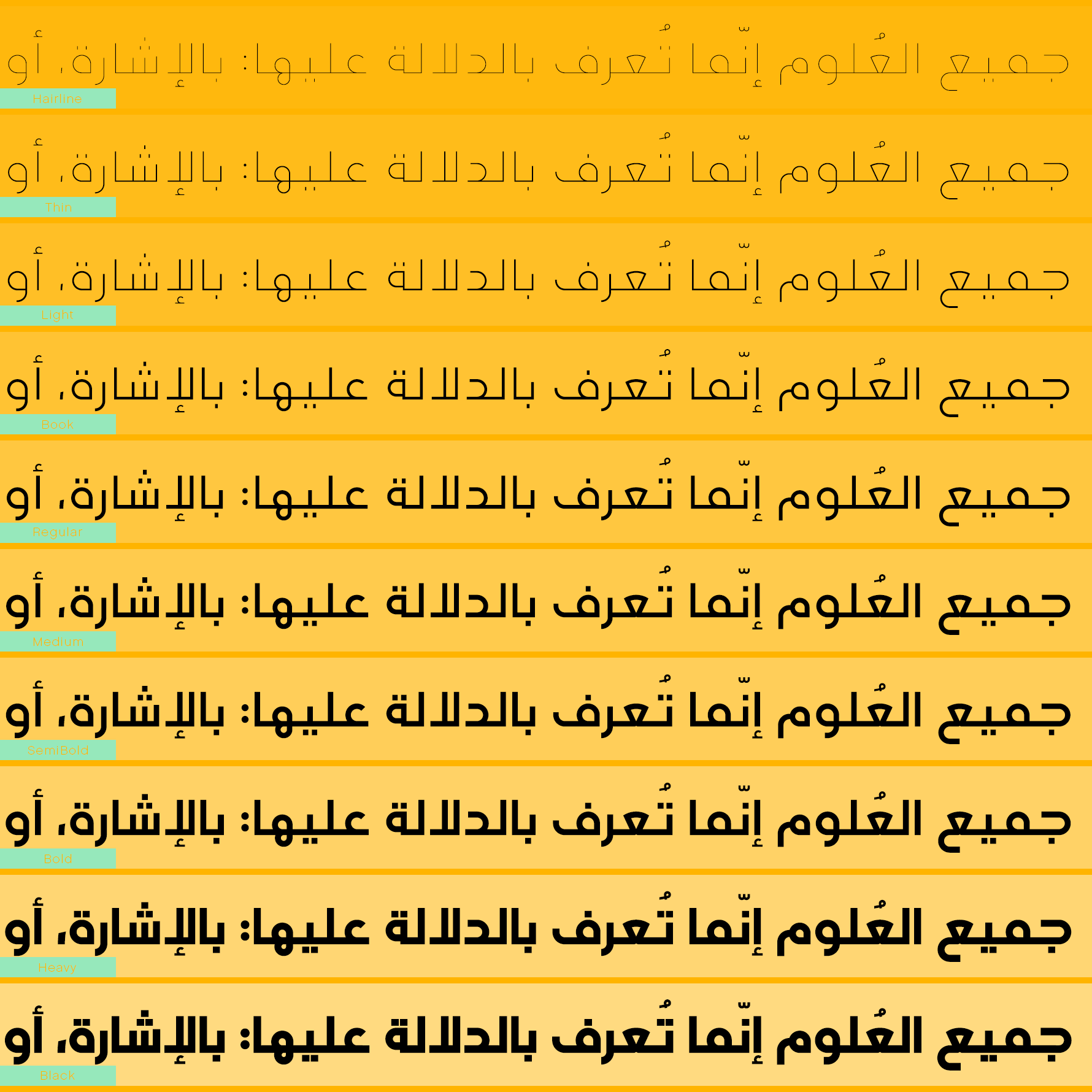 QT ArabicCity - our latest font family

2 jul 2016
QT ArabicCity is a contemporary typeface where simplicity meets modernity to reach design needs in modern cities where business are crowded, information are interfere and time is not enough except for read clearly and in optical sequence.
a readability connects eyes with mind..

qtypography.com/fonts
---
May 22, 2021


3- عزيزي قاسم حيدر رعاكم الله السلام عليكم ورحمة الله وبركاته لقد سررت بأعمالك الجميلة ، لا سيما وانا من المهتمين بالخط الكوفي المربع ، وان تصميماتك رصينة وجميلة ، ارجو من جنابكم التواصل واطلاعي على مستجداتكم .. اتمنى لك كل التوفيق ودمت بالف خير وعافية

---
4- Very helpful tool for square Kufi, I was using fontlab with a special python script to do the same at the web app you developed but your app makes it easier for all the people to use.

---
5- Honestly dear, Day after day, year after year, you keep up the continues achievements with that exponential balance! And guess what, that is one of the most causes that cheers me up! I am really happy for you... With my pure prays,

---
Comments, Rating and Feedback
---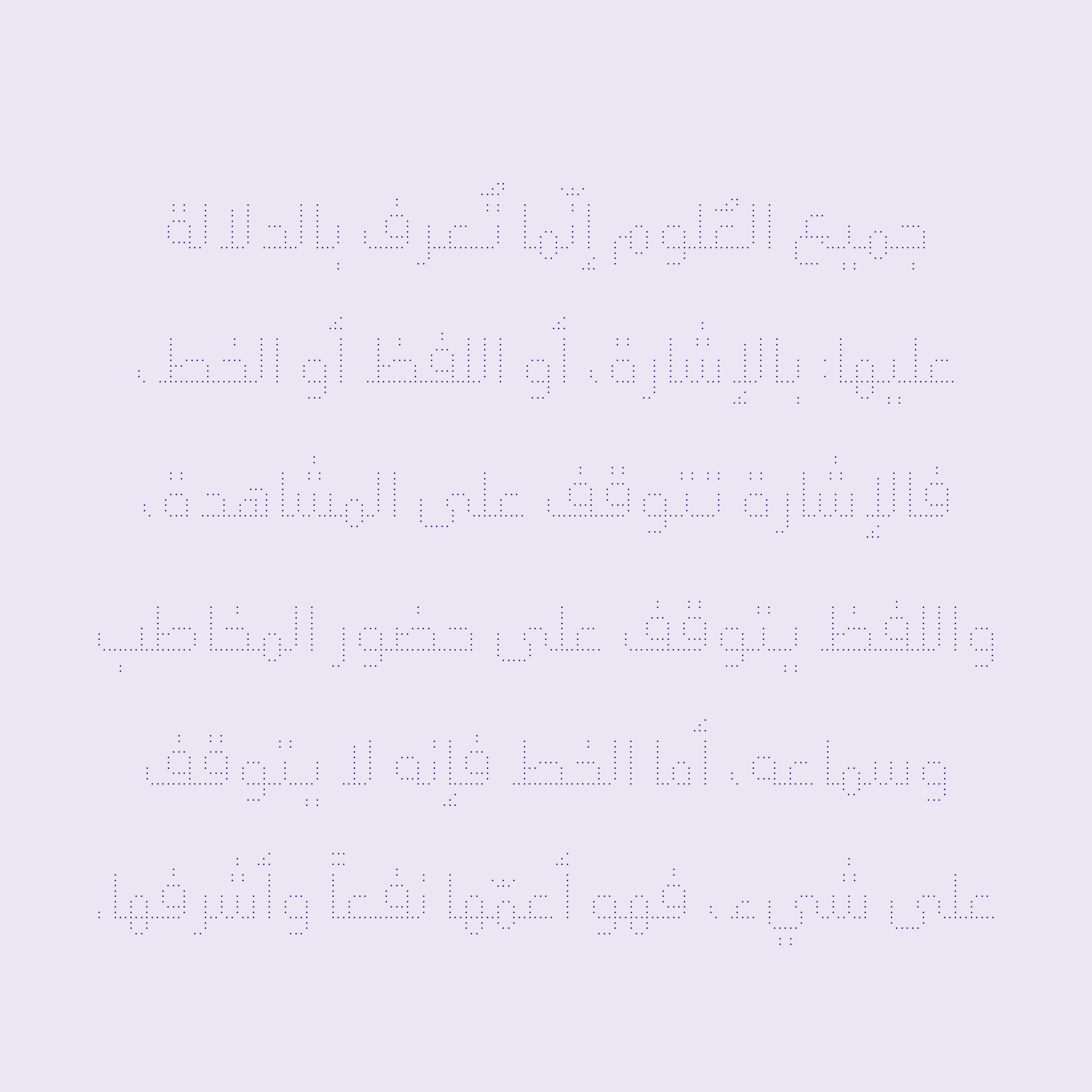 6 jun 2016
qtypography.com/fonts
---
More improvements in version 1.2.8 of typogridapp.com
web app.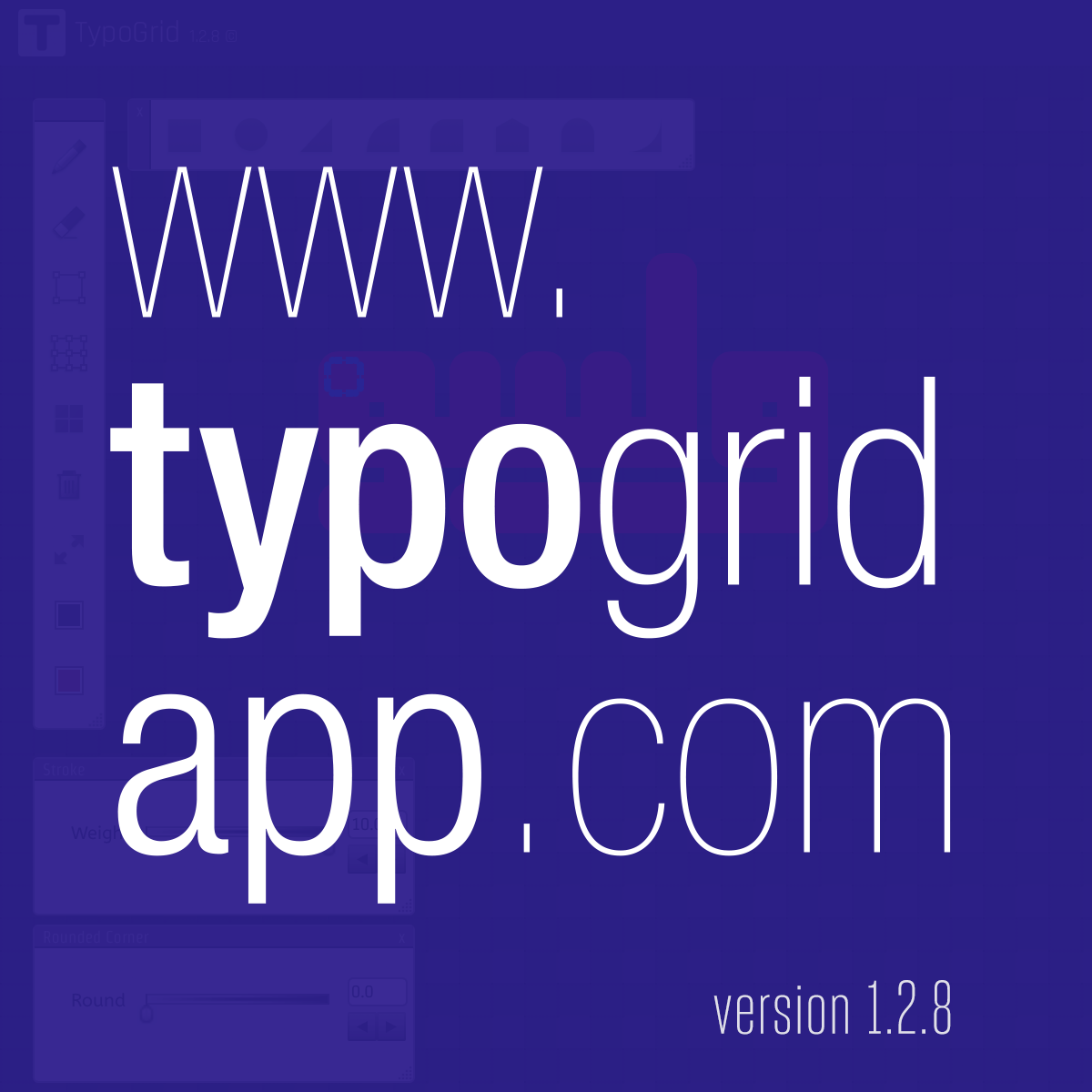 17 march 2016
Bold thickness (click on + and - keys).
New mode views.
Rounded Corners.
Bug fixes & performance improvements.
More compatible on desktops, tablets & smart phones.
typogridapp.com
---
Free Download
Copy and Paste.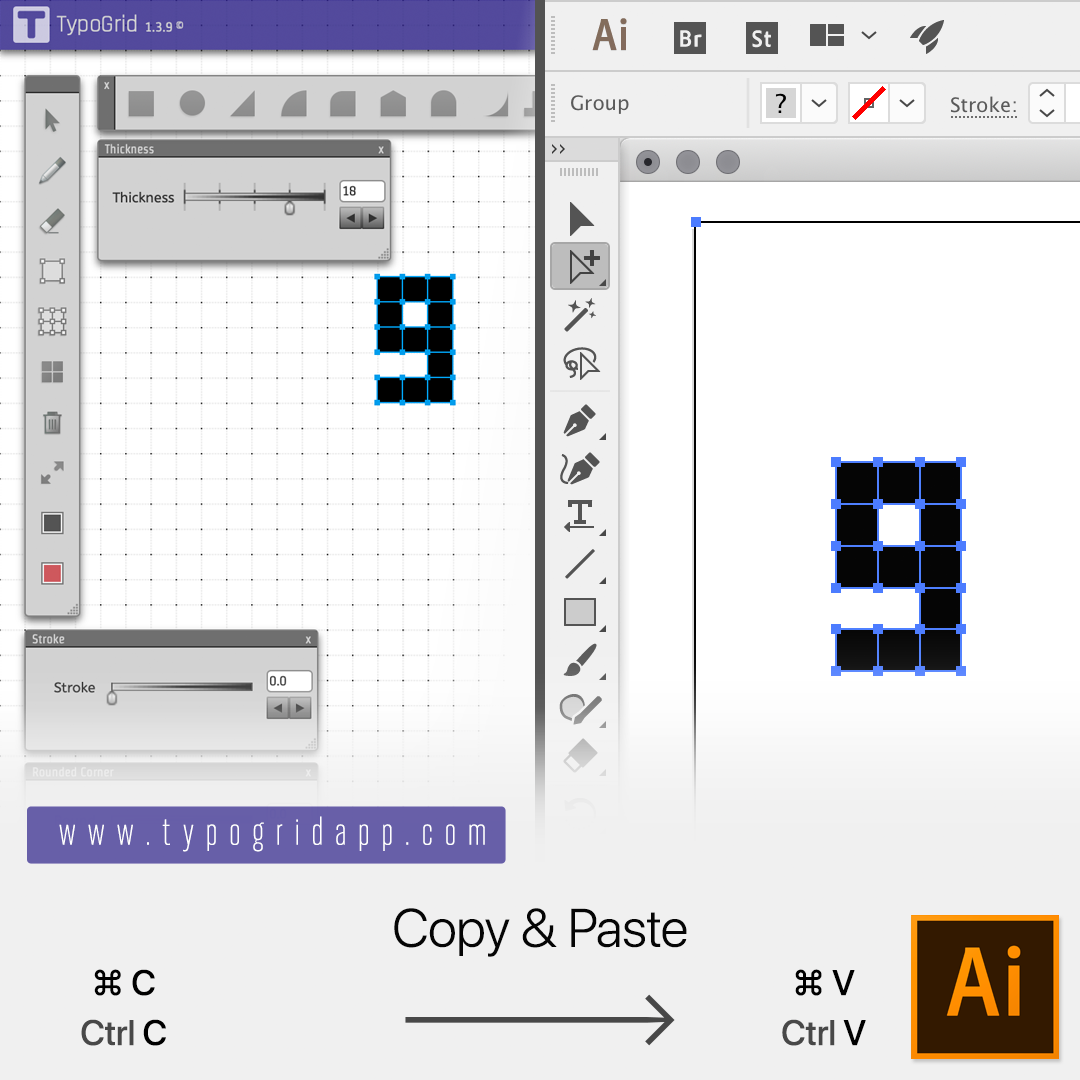 May 23, 2021
With TypoGrid App. you can simply download any artwork you designed for Free! (Free Download) Directly as PNG format in high resolution, and vector format as well, yes vector (SVG) format! by Copy and Paste to your Illustrator file.
typogridapp.com
---
latest fonts: QT Square Kufic
retail font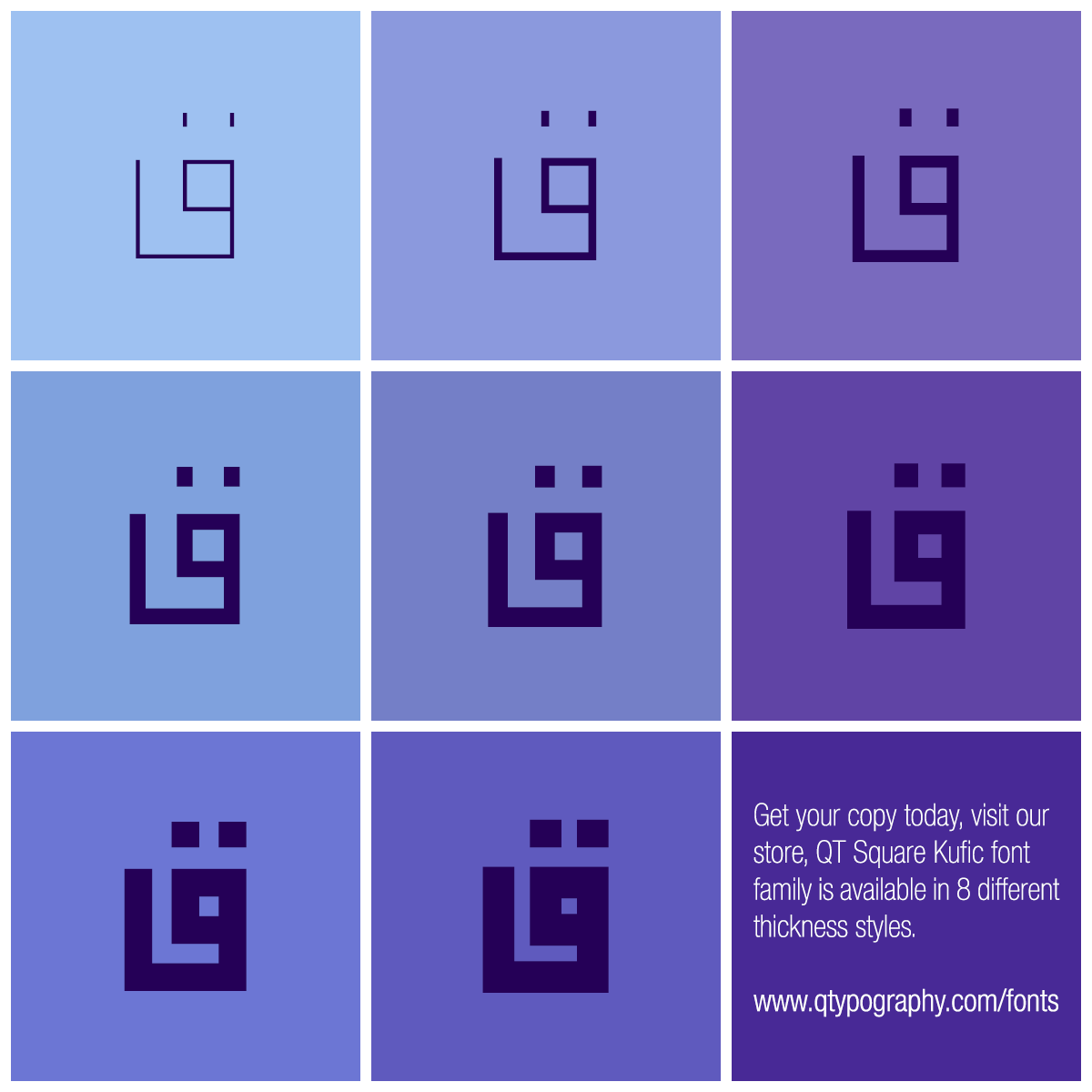 QT Square Kufic

24 april 2015
Square Kufic is one of the oldest calligraphy style in the arabic heritage. It appears from the thirteenth century on coins, tile work and elsewhere in Iraq, Turkey & Iran. In today's world, it is used for logotypes by some designers and typographers of both, the Arab world as well as globally.

Since 2006 until the beginning of 2015, Qassim Haider studied this kind of calligraphy/typography and developed a wide variety of logotypes and art design. He even developed a unique web application called "TypoGrid" to create this kind of typography. Qassim has designed and developed this style as font family with 8 different thickness styles in a very detailed and elaborate experience.

The font is available on qtypography.com/fonts,
linotype, fonts.com & fontshop where you can take a trial and purchase it.
---
custom type
custom font
type design
arabic type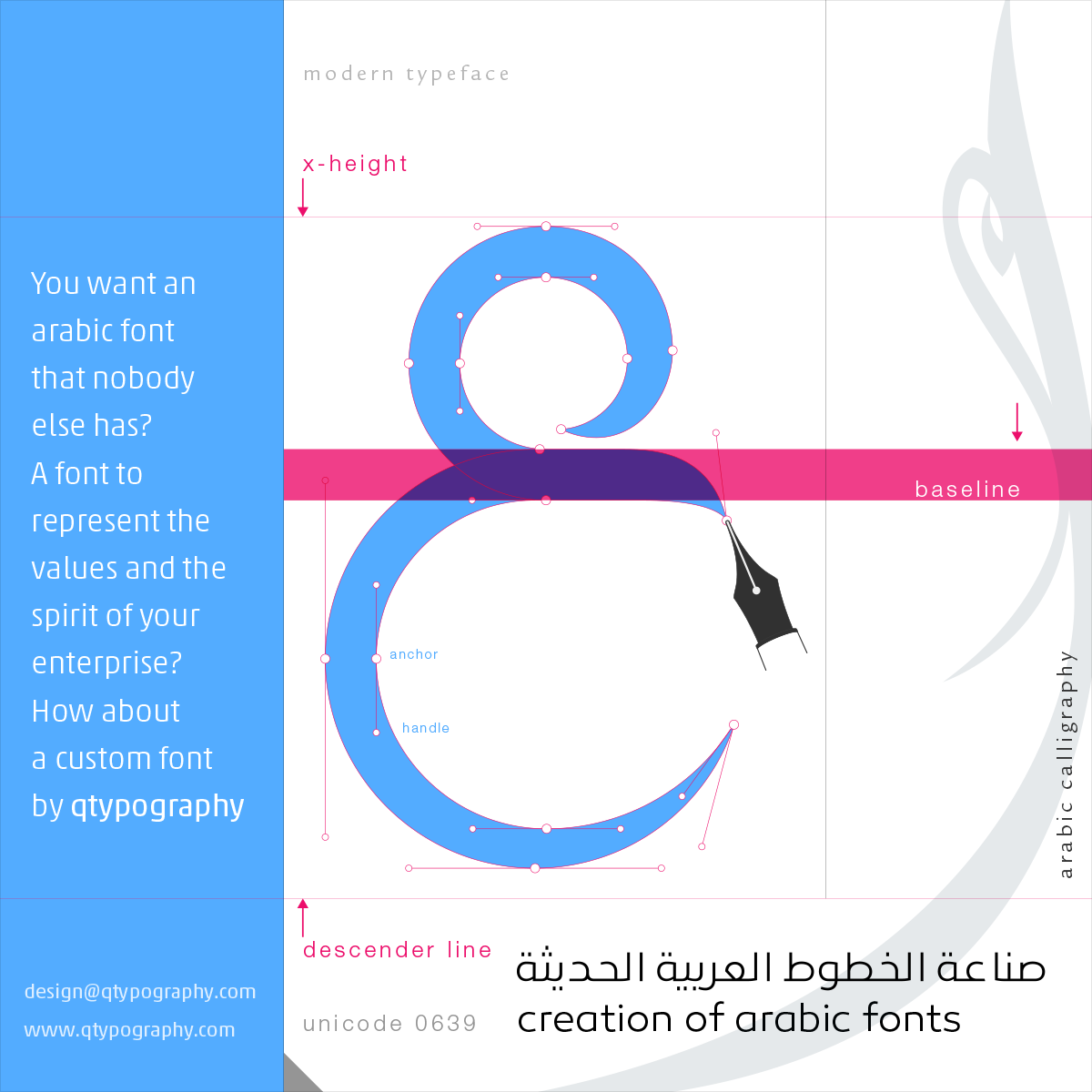 You want an arabic font that nobody else has?

30 march 2015
You want an arabic font that nobody else has? A font to represent the values and the spirit of your enterprise? How about a custom font by qtypography.
Hand in hand with you, we will develop the font to your satisfaction.
Maybe you have a design that is not a font yet? We will help you to transform your idea into a font.
And we will help you in as many steps as you wish: designing, digitizing, spacing, kerning or the development into a font-family with multiple weights and widths.
contact us on: design[at]qtypography[dot]com
---
latest projects
web app.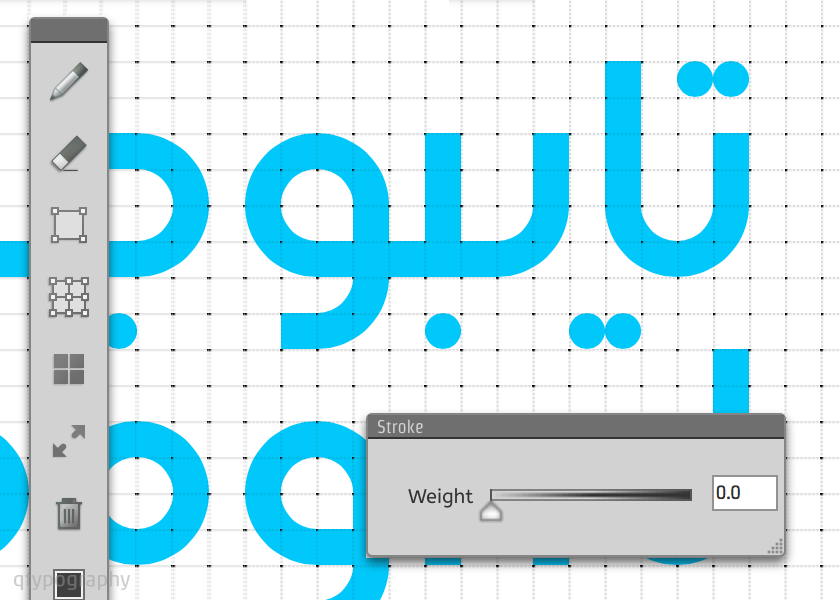 TypoGrid is a smart tool for typographers and graphic designers helps them to create typography letters and pixel arts based on the grids system. Designed & developed by Qassim Haider.

read more +
In 2012, Qassim developed the first version of this web application under "Square Kufi / Kufi Murabba" name. The concept of the app was to help users create one kind of arabic calligraphy which is Square Kufi using pen and eraser tools.

At the end of 2014, and after feedback and further development of his vision, He developed a lot of concepts to created an advanced and smart tool for typographers and graphic designers which would help them to create typography letters and pixel arts based on the grids system, in a much more faster way. Thus, this web application has now emerged as something more than a tool to create Kufi arabic calligraphy - it has become a Typogrid.

Technical Features:
- User-friendly interface
- Export as SVG and PNG
- Import SVG files
- Compatible on iPad, Tablets and smart phones

---
the founder
qassim haider was raised in a creative environment from an early age. he was attracted to diverse disciplines of art and developed an interest in drawing, painting, calligraphy and designing.
a curious mind that constantly seeks knowledge, qassim's portfolio extends to fields as diverse as arabic calligraphy, typography and web programming.
qassim was commissioned to develop typefaces and calligraphy for different campaigns and creative projects. his work has been featured in publications and he has spoken at various art forums.
@qassimhaider






Highlights

More than 10 years of experience in Arabic type-design & font development.
2015 - Produced a sessions & workshops in arabic type-design, typographic matchmaking & font developments in Royal University for Women (RUW) - Bahrain.
2014 - Designing and developing "QT Square Kufic" as a retail font, published on linotype, fonts.com & fontshop
2012 - Designed & developed (TypoGrid Web App) which is a smart tool for type-designers and graphic designers helps to create pixel arts.

Our fonts are cross-platform font files, Compatible with Windows and Mac operating systems.
Our fonts work compatibly with Microsoft Office's and Adobe Creative Suite programmes.
read more +